Taryn Allen is considered to be one of the "Best" Yoga Instructors in South Florida, so there is no surprise that her Full Moon Yoga Experience Event was featured on Channel 7's Deco Drive program. If you haven't been to one of Taryn's full moon events before and are curious to see what all the hype is about, you can check out the clip below:
This yoga event has grown tremendously over the years and it's a great way for beginners to get to try a yoga class in Fort Lauderdale without any upfront financial investments like with a typical yoga studio that requires consumers to buy upfront yoga class packages, when consumers are not even sure if they are going to like yoga, the instructors or the studio itself.
We all have heard the numerous health benefits of practicing yoga on a regular basis, but it's sometimes intimidating for beginners, for various reasons including not being able to do any of the postures.
Taryn understands this probably better than most yoga instructors, because she was there!
Flexibility didn't come easy for her, unlike most yoga teachers who seemed to have been gifted with flexibility.
Taryn also didn't want the cost of joining a yoga studio to prevent individuals who are curious about yoga from trying it, so that is why she created several FREE yoga classes in Broward County Florida.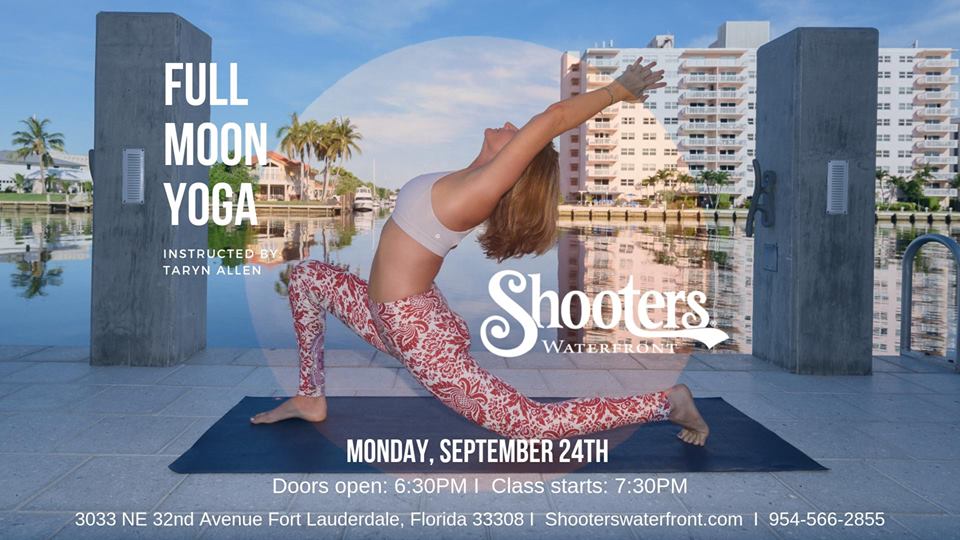 So whether you decide to go to her next full moon yoga event or one of her weekly yoga classes, we promise you that you will have a whole new perspective of yoga and leave with the confidence that yoga really isn't that hard after all.
Just like in college the instructor can make a big difference with whether or not the student passes or fails the class, yoga is the same way, with the right yoga teacher, you can accomplish amazing things!
So don't make the mistake of thinking all yoga instructors are the same and if you have tried yoga in the past, but you were turned off by the instructor we invite you to give it another try and see what the Taryn Allen Yoga Experience is all about!